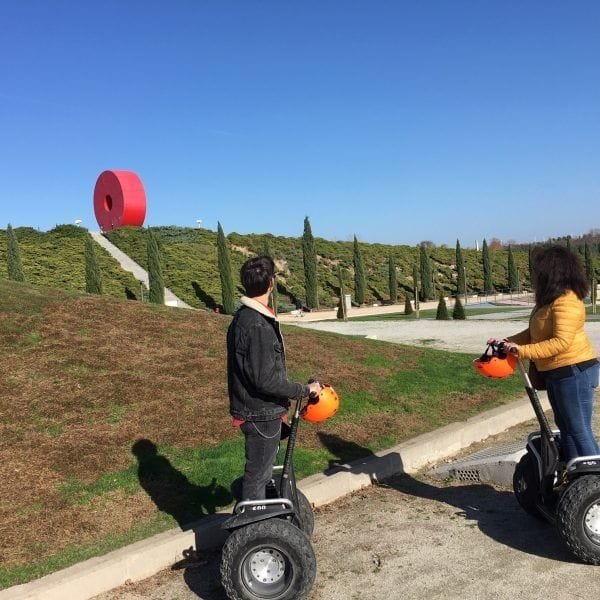 Gift Voucher 4 people Segway Parque Juan Carlos I – 2 hrs
Segway Juan Carlos I gift voucher

4 people for 120 minutes
A great gift experience.
Make your purchase you will receive a gift voucher, the person who is going to use it calls or writes to choose the date.
Segway in Juan Carlos I park
Segway Tour Private and exclusive only for your group.
Gather your friends and enjoy a Segway ride through the great Juan Carlos I park!
The second largest green space in Madrid, founded in 1992. Built to celebrate the European Capital of Culture, which the city of Madrid celebrated that year.
The park features a series of outdoor monuments and sculptures by international artists, the goal is to celebrate the cultural richness and unity of nations.
During the tour we will be able to observe and enjoy monuments such as:
– The Physiochromies
– Garden of the three cultures
– The Olivar de la Reina Sofía
– The Cold Stove
– The fingers
– Mexico Space (Donut)
– and more featured places.
A great space to enjoy and explore, it is an open-air museum.
The routes last approximately 100 minutes, and are done on the X2 Segway, the segway model that no terrain can resist.
The most fun, learning to handle it!
Go ahead, gather your friends and enjoy an experience of
an off-road segway in Madrid!
Minimum age: 10 years. Maximum weight: 120 Kg
It is not canceled by light rain.

Place your order at [email protected]

Place your order www.segcitybox.com
Book Now